For those wanting to improve the appearance of acne scars, wrinkles and boost overall collagen levels, medical microneedling may be the perfect solution for you. At Rejuvenation Clinic of Sauk Prairie, we're excited to offer Exceed™ microneedling to our repertoire because we believe this device delivers noticeable results with very little downtime! It can be used in all types of skin concerns such as older people wanting wrinkle reduction, people with large pores or scarring and even in younger people who desire prevention of skin aging.
What Is Microneedling and How Does It Work? 
Exceed™ Microneedling is a non-surgical cosmetic treatment that uses a handpiece shaped like a large pen with very fine needles on the end to puncture the skin. While this may sound slightly scary, the Exceed™ microneedling device delivers very controlled, ultra-small punctures that are more like surface-level pinpricks. These micro-injuries induce a cascade of signals that uses our own natural healing process to stimulate collagen production. Ultimately, this reveals a renewed and rejuvenated complexion.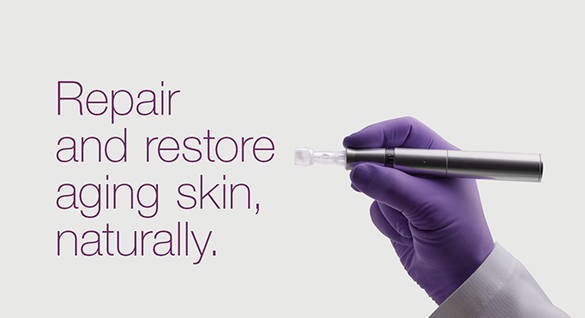 What Does Microneedling Do for Your Skin?
The purpose of microneedling is to improve the overall quality of the skin. The procedure works on all skin tones and may offer a lot of benefits for various skin issues, including:
Signs of aging, such as age spots, fine lines and wrinkles.
Uneven skin textures and skin tones.
Sagging skin.
Acne scars.
Other types of scars.
Large pores.
Stretch marks.
Skin discoloration.
With Exceed™ Microneedling, 88% of subjects reported significant improvement of acne scars and 90% of patients saw an improvement in facial wrinkles.  You can view our patients' before and after Exceed Microneedling pictures, to help give you an idea of results which can vary by individual.
What's the Microneedling Procedure Like? 
About 20 minutes before the treatment, a thin layer of topical numbing gel is applied to ensure little to no discomfort. During the procedure you'll hear a gentle buzzing of the Exceed™ handpiece. The clinician treats over all the areas of face, usually starting with the forehead first. A special hyaluronic gel is placed on the skin and infused into the treated areas to assist with regeneration, hydration and repair. Most people report that it feels like a vibration and in some areas, ticklish. If you were watching the treatment being performed it would look like the provider is drawing small loop-de-loops on the face. After the microneedling procedure, a hydrating mask or booster serum is applied and you'll be able to drive home.
Is It Safe?
Microneedling is considered safe for most people with varying skin types and conditions who are in overall good health. Exceed™ is the first dual-indicated FDA-cleared medical microneedling system for facial wrinkles and acne scars. Having the treatment performed in the medical setting such as Rejuvenation Clinic of Sauk Prairie ensures optimum safety. During your consultation, we'll assess your overall health and skin concerns to let you know if you are a good candidate for microneedling.
Is It Painful?
For most patients, microneedling is a painless procedure that produces a prickly, vibrating or ticklish sensation during treatment. We numb your skin with a topical anesthetic so that you feel more comfortable throughout the treatment process. After the treatment, people usually feel a tight, tingly or irritated sensation on the skin but is not necessarily painful. Most people have absolutely no discomfort by the next day.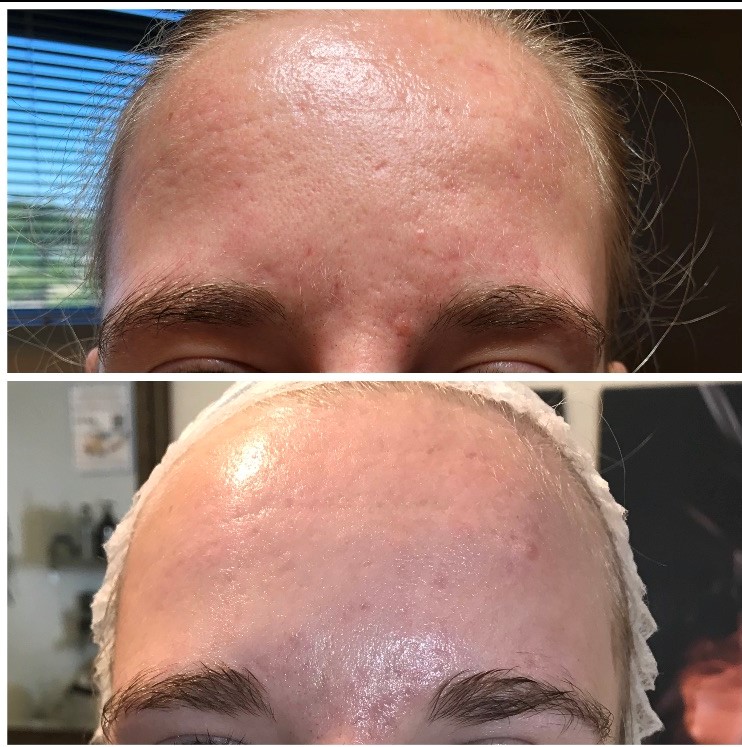 What Areas of the Body Are Best for Microneedling? 
Microneedling is mostly used on the face to address many common facial concerns such as scars, wrinkles or large pores. However, the procedure can also be used for other parts of the body for overall skin rejuvenation such as the hands and decolletage.
What Are Potential Microneedling Side Effects? 
Like all cosmetic treatments, there are a few potential side effects associated with microneedling. Most patients have minor skin irritation and redness in the treatment area for a few days. These are both natural responses to the small "injuries" made by the needles in your skin.
If more severe adverse events occur, the clinician should be notified right away. These include:
Bruising.
Persistent bleeding.
Peeling.
Signs of infection.
What Should I Expect After Microneedling?
Unlike many cosmetic surgeries, microneedling is minimally invasive and requires little to no downtime. Most people go about their normal daily activities immediately following treatment. You'll receive after-treatment serum to apply as needed the first 24 hours. You'll be asked to use very gentle products for at least one week and refrain from make-up for 24 hours. Lastly, you'll be encouraged to use sunscreen regularly to prevent sensitivity, sunburns and to assist your skin with the healing process as well as best results.  We sell a variety of skin care products, such as sunscreen, that can help protect your skin after your treatment.
How Long Does It Take to See Results? 
Your skin has the amazing ability to rejuvenate new tissue fairly quickly. Most people notice a brightening, healthy effect of microneedling one week after the treatment. The long-term improvements for scarring and wrinkles takes 3-6 months for full results. With Exceed™ Medical Microneedling, 78% of subjects saw an improvement in wrinkles in just 90 days!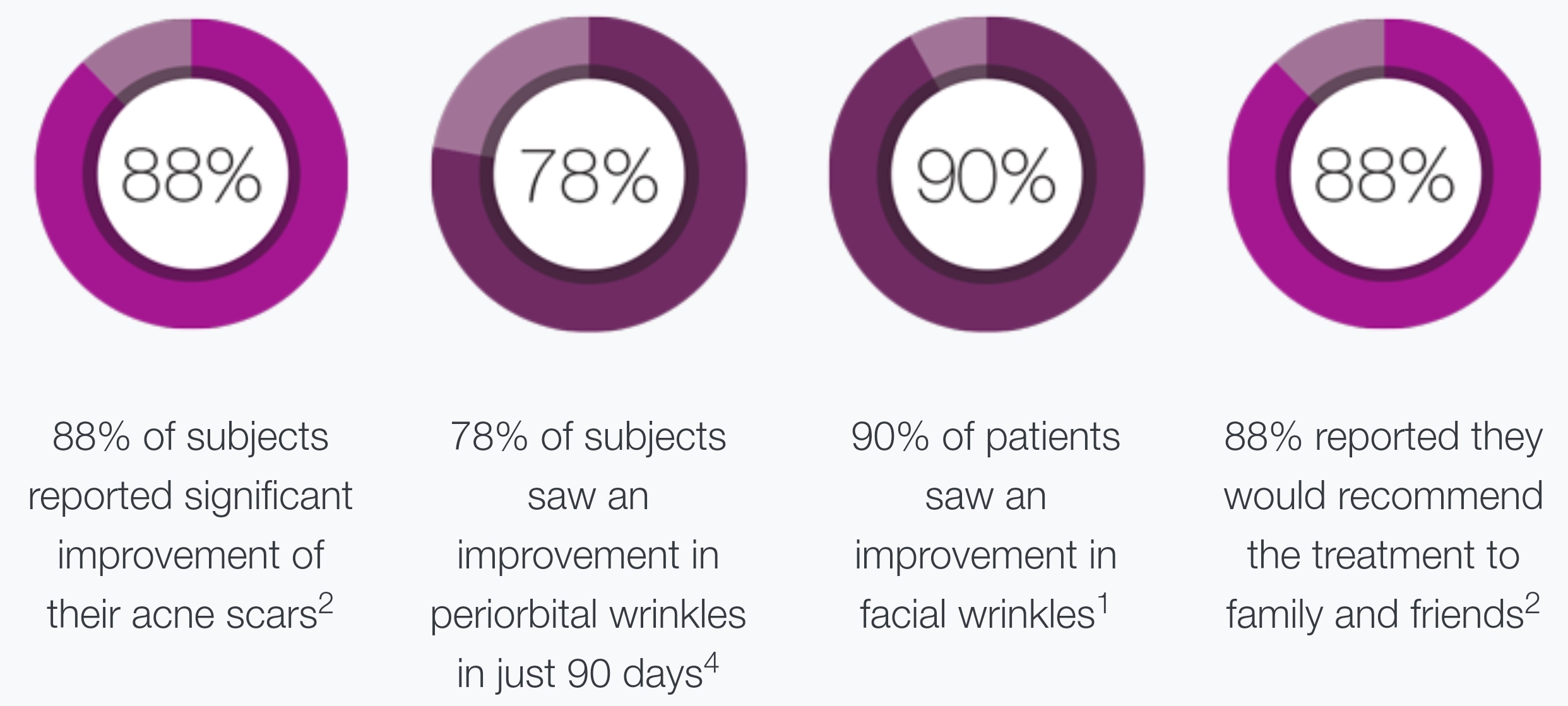 Your clinician may recommend multiple sessions based on your goals and skin condition.
How Do I Prepare for my Microneedling Treatment? 
During your consultation, we will assess and evaluate whether you'd be a good candidate for microneedling. You'll be given all the information you need to ensure you're fully prepared for your upcoming treatment. This often includes avoidance of certain products one week before your procedure such as retinols and AHA's/BHA's. Also, certain medications can increase your risk of bruising and bleeding so these will be discussed well in advance of your treatment.
How
 Do I Get Started? 
Start your journey to smooth skin at Rejuvenation Clinic of Sauk Prairie. Schedule your free consultation today to find out if microneedling is a good treatment option for you. We have a variety of services to choose from to help you look and feel your best. Give us a call at 608-434-6600 to learn more.