Coolsculpting®: A Safer Way to Blast Fat
Get Help Reducing Stubborn, Pinchable Fat with Coolsculpting Elite®
Do you have problems with muffin-top, saddle bags, tummy pooch or turkey neck? Have you tried diet and exercise with no results? We may have a solution for you!
Why Choose Rejuvenation Clinic of Sauk Prairie
Rejuvenation Clinic of Sauk Prairie is proud to offer Coolsculpting treatments as a way to help reduce stubborn fat bulges safely and effectively with long-lasting results…without surgery and with minimal downtime*. Our providers are a select few who have attended Coolsculpting University for advanced body sculpting training. Because of our commitment to continued medical education and better technology, we also became one of the first clinics in the country to be certified and offer the CoolMini applicator for the submental area (double chin) as well as the new CoolAdvantage applicators for better and faster results. Additionally, we now offer the most recent version of Coolsculpting technology, Coolsculpting Elite. We've performed over 2,300 Coolsculpting treatments, and are proud to be one of the few clinics to have this level of experience to offer to you.  View our before and after CoolSculpting treatment to see what CoolSculpting can do for you!
What are the Benefits of CoolSculpting Elite?
Coolsculpting Elite is the newest version of technology available. This new technology is able to target more areas of the body for fat reduction than any other device on the market!
Fast & Noticeable Results – Coolsculpting Elite allows you to see visible changes in your body. This treatment often leads to inches lost, leaving you feeling more confident in your own skin!
Targets more areas of the body – The applicator on the Elite machine is small, giving us the ability to target many areas of the body.
No Downtime – No need to take off work or play for Coolsculpting Elite treatments.
Lasting Results – Your results will stay if you are keeping up with a healthy lifestyle.
Coolsculpting Background
The American weight-loss and self-image industry has undergone several notable changes in recent years. The value of the market totaled $72 billion in 2018. A survey conducted for Fortune found that although 77% of people in the US report that they are actively trying to consume healthier foods, only 19% say they're following a diet. This may be attributed to the fact that sometimes, despite our best efforts, diets simply aren't enough.

Meanwhile, in 2019 the American Society for Aesthetic Plastic Surgery (ASAPS) reported that more than 18.1 million surgical and nonsurgical cosmetic procedures happened in the United States. Of these, minimally-invasive or non-surgical procedures are on the rise, with around 16.3 million performed in 2019.
According to Dr. Jack Fisher, ASAPS President, these numbers are unsurprising. Technological advances, less-invasive procedures, and overall greater accessibility to these services are making both surgical and nonsurgical aesthetic procedures far more appealing to a wider audience in the American public.
One of these less-invasive procedures, Coolsculpting, has been approved by the FDA. Since its approval, Coolsculpting fat reduction has been used successfully to freeze fat cells for millions of people worldwide.* It has been especially appealing to people new to cosmetic body procedures, with 30% of people who opt to try Coolsculpting fat removal saying it's their first time having any sort of aesthetic procedure done.
Coolsculpting has developed a top-notch, hands-on training university which stands out in the industry to create advanced body-contouring clinicians. From the advancement of new applicators, new areas to treat, FDA-approval of colder treatment temperatures allowing for shorter appointments and much more, Coolsculpting has shown itself to be a leader in non-surgical body contouring.
By the numbers:
Coolsculpting was studied in more than 4,000 individuals in clinical trials prior to approval.
To date, more than two million Coolsculpting treatments have been performed globally.
Patient satisfaction rates range between 75% and 95%.*
Perhaps one of the most important points in favor of cosmetic body procedures is the self-esteem boost it often gives to people with body image concerns. The mental health lift that comes along with positive physical changes can be extremely beneficial, and Coolsculpting is one of the easiest and most cost-effective ways to achieve these effects. Some people who have undergone Coolsculpting have said that their lifestyle and health habits actually became more active following the procedure because it made them feel confident again. They didn't feel quite as stagnant with their bodies, and their clothes began to fit better.

Coolsculpting: What Is It?
The unfortunate and unfair reality is that many people struggle with stubborn fat despite following a healthy regimen of diet and exercise. Even with targeted workouts, it's very difficult to spot reduce fat bulges.
With most other devices on the market, non-surgical fat reduction is attempted through heat. Devices using radiofrequency, infrared and laser technology are numerous, with much less clinical trials and years of experience, making the whole industry a complicated and confusing mess of information.
Also, in our experience, results can be very inconsistent, working well on a few people, okay on a large set of people and not working (at all) on many people. Another caveat is oftentimes, heat modalities only shrink fat cells rather than cause fat cell death as in Coolsculpting. Shrunken fat cells return with even a small amount of weight gain whereas removed fat cells do not. Heat-based fat reduction would not be a long-term solution.
Enter Coolsculpting — a less-invasive, non-surgical alternative to liposuction, saving you from the risks that can come with going under the knife. Essentially, the Coolsculpting procedure uses fat freezing technology to lower the number of fat cells in the treatment areas. For most patients, the results are longer-term because the fat cells themselves are targeted. As long as the process is accompanied with a healthy lifestyle including diet and exercise, the results are designed to last longer than other procedures.
One thing that's important to keep in mind with regard to this procedure is there's a significant difference between weight loss and freezing fat. First, losing or gaining weight typically does not result in an increase or decrease in the number of actual fat cells we have in our bodies. Rather, gaining or losing weight works to change the size of our fat cells. The number of fat cells each person has in their body is usually established during adolescence.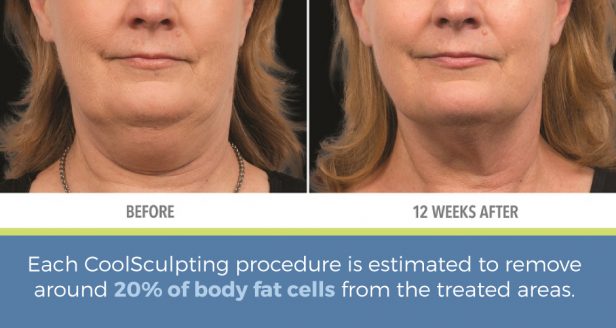 *Results and Patient Experience May Vary.
Each Coolsculpting procedure is estimated to remove an average of 20% of the fat cells in the treated area with ranges of 20% to 40% reduction reported. Although Coolsculpting is effective at removing a significant amount of fat cells, this does not translate to weight loss on a scale. The results will be a matter of inches rather than pounds lost, but this is significant when people start to see their clothes fitting better especially in targeted areas.
Interestingly, the Coolsculpting methodology was actually born of an observation about children who ate popsicles. These children were more likely to develop dimples in their cheeks. Two scientists from Harvard University, Dieter Manstein, MD and R. Rox Anderson, MD, are largely credited with investigating and establishing the biological process underlying this observed phenomenon. Their study, published in 2008 in the academic journal, Lasers Surgery and Medicine concluded, "Prolonged, controlled local skin cooling can induce selective damage and subsequent loss of subcutaneous fat, without damaging the overlying skin."
Am I a Coolsculpting Candidate?
It's important to know that Coolsculpting is ideal for people who want to get rid of bulge in certain body areas. The best candidates are individuals that are currently within their ideal weight range (around 15-20 pounds) but who still have areas of subcutaneous fat they can pinch. Coolsculpting technology is less effective when used on fatty areas that are firm and cannot be pinched. This type of fat is called visceral fat and may be reminiscent of the "Santa Belly". Many people who regularly exercise, eat a healthy diet but still suffer from noticeable fat bulges are able to consider Coolsculpting as a fat reduction option.
Additionally, it is important that candidates set realistic expectations about the process. They must be willing to maintain the results of cryolipolysis with a healthy, active lifestyle. It should not serve as a substitute for a healthy diet and adequate exercise.
The Coolsculpting procedure can be effective in both men and women and is FDA-approved for the following areas of the body:
Abdomen
Flanks (Muffin Top or Love Handles)
Outer thighs
Inner thighs
Under the chin
Below the jawline
Bra fat
Back fat
Upper arms
Lower buttocks/thighs (Banana Roll)
Targeting different areas may take varying numbers of treatments. The chin, for example, may only necessitate one to two cycles, while the abdomen can range from two to six. Men and women can expect varying numbers of cycles because of their genetic differences. The treatment can take anywhere from 35-60 minutes per cycle depending on the area being treated. So, if someone were treating their abdomen and it was assessed that they needed 4 cycles for the best sculpting results, they would be at the clinic for about 4 hours. Most patients typically see results between 8 and 12 weeks after treatment. Check out our Coolsculpting Before and After pictures to see a sample of patient results*.
Coolsculpting Versus Liposuction
Beyond the fact that both Coolsculpting and liposuction have the ultimate goal of fat reduction, they are fundamentally different processes and procedures. Liposuction requires the patient to submit to local anesthesia, which comes with its own set of risks. Because Coolsculpting is noninvasive, individuals who might not be candidates for liposuction because of the surgery aspect are able to undergo Coolsculpting without concerns about anesthesia.
The liposuction procedure, which can only be performed by a licensed cosmetic surgeon, starts with one or several incisions made in the desired targeted spots. Then the doctor inserts a cannula through those incisions to disintegrate and suck out fat cells. The treatment is best suited for people who are currently at a healthy weight. Liposuction is not intended for weight loss, but rather for the reduction of fat deposits in certain areas of the body.
Coolsculpting does not require any incisions or injections. Rather, the applicator delivers the focused cooling on the outside of the body to the fat cells in the desired area. Once those targeted fat cells are frozen, they gradually begin to disintegrate. This natural expulsion process continues to occur for up to three to six months.
How Does Coolsculpting Work and What Should I Expect?
For the majority of the FDA-approved treatable areas of the body, Coolsculpting employs a suction device to capture the fat bulge. During the actual procedure, most people report feeling either a pulling or tugging sensation in addition to cold and pressure. Pain is rare for most patients because after just a few minutes, the treatment area is numb from the cold, similar to your foot falling asleep.
During this process, the fat cells are essentially frozen after coming into contact with the controlled cooling for a determined amount of time. Once the fat cells are crystallized, they are then broken down through a massage technique immediately after removing the suction device.
You may be left with redness or bruising but this typically is minimal for most people. The next day and for usually a week after the treatment, the area can be tender and swollen. Other side effects can include:
Bruising
Redness
Cramping
Itchy skin
Decreased sensation or numbness
These side effects typically do not interfere with daily activities such as work or fitness programs.
As soon as three weeks after treatment, most people start to see some results from Coolsculpting. * Normally, however, the most dramatic stage of the Coolsculpting transformation happens two months following the procedure, and the majority of targeted fat cells are flushed out of the body between three and six months*.
How Much Does A Coolsculpting Session Cost?
The cost of Coolsculpting treatments primarily depends on the number of cycles needed to completely treat the entire fat bulge. For example, the cost of treating the abdomen is typically between $1500-$2700, as most people require 2-4 cycles to cover the entire area.
At Rejuvenation Clinic of Sauk Prairie, we offer financing options so you can make monthly payments to fit your budget.


Coolsculpting: Where to Go?
Body sculpting plans and assessments differ for each person, and finding yours begins with a consultation. Rejuvenation Clinic of Sauk Prairie is proud to offer Coolsculpting treatments as a way to help reduce stubborn fat bulges safely and effectively. For many patients, the results are better and last longer than any other fat reduction intervention.

Our providers are a select few who have attended Coolsculpting University for advanced body sculpting training. We were also one of the first in the country to be certified and offer the new CoolMini applicator for the submental area (double chin) as well as the new CoolAdvantage applicators for quicker and better results.
We offer a welcoming and private setting where our patients can enjoy the benefits of facial and body treatments in a relaxing atmosphere. Our treatments are ideal for both men and women of all ages and are more affordable than you might think. During our complimentary consultation, we work with you to develop a customized body sculpting plan, being mindful of your budget and short- and long-term goals.
Rejuvenation Clinic of Sauk Prairie is proud to offer such an advanced technology that's safer, more effective and non-surgical. Most importantly, we're rewarded every day with helping people feel more confident and comfortable in their own body. Contact us for a free consultation/assessment to get started!