Rejuvenation Clinic of Sauk Prairie is proud to announce the addition of Ultherapy®, also referred to as "Ulthera". After years of observing this ultrasound technology improve and advance, we decided it was time to offer this treatment to our patients. Since adding it to our repertoire in early 2018, we've been thrilled to report amazing non-surgical transformations.
What Is Ultherapy®?

Ultherapy® is a non-invasive procedure that delivers ultrasound heat energy to the deep, dermal layers of the skin, creating an immediate lifting effect without injuring the superficial layers. In addition to skin lifting, Ulthera utilizes heat to stimulate new collagen development as well as reorganize and strengthen existing collagen to create a natural tightening over the course of 3-6 months.
Ultherapy® is the only non-surgical, non-invasive ultrasound treatment the Food and Drug Administration (FDA) has cleared to lift and tighten skin. This procedure is ideal for counteracting the effects of aging and achieving a more youthful appearance.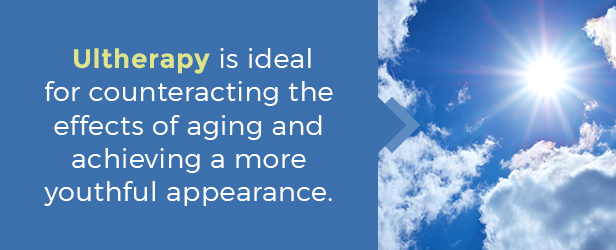 Ultherapy® uses the body's regenerative response to lift and tighten the skin in certain areas, such as:
Under the chin, jawline
Above the eyebrows, crows' feet, under eyes
On the neck
On the décolleté, or chest area
What to Expect With Ultherapy®
It's normal to have questions and reservations with any new technology so here's what you can expect before, during and after the procedure.
Before The Ultherapy® Procedure
The first step is to schedule a complimentary consultation to decide if you're a good candidate for Ulthera. We will assess the condition of your skin, overall general health and goals or expectations about the treatment. We'll also give you plenty of opportunity to address any concerns or questions you might have before the procedure.
During Your Ultherapy® Procedure
We will review the process of the treatment and answer any last minute questions you might have. We also offer ibuprofen or acetaminophen prior to getting started to help reduce discomfort. After cleansing the skin, our Ultherapy® clinician will identify and map out the areas that will be treated looking for skin and bony landmarks, areas of concern and special considerations such as asymmetry.
Once these steps are complete, a thin layer of ultrasound gel and an applicator is placed on the skin. The applicator allows the clinician to visualize an ultrasound image and choose a custom setting picked just for your skin.
Once the layers are targeted and the device is set, the ultrasound heat energy is delivered in pulses (or lines) to the treatment area. Each area of the face or neck can take different lengths of time, however, most treatments last between 1-1 ½ hours. A common description of how this feels would be "like a sparkler moving in a line across the skin". Ulthera is generally well-tolerated and the heat or sparkler sensation goes away quickly.
After Your Ultherapy® Procedure
Most people leave the office with little to no heat or discomfort right after the procedure. There's minimal downtime with Ultherapy® as the ultrasound bypasses the top layer of skin. Immediately after, people may notice some slight redness and swelling. Very rarely, bruising can occur. It is also rare that persistent redness, flaking, peeling or other visible signs of having the treatment are displayed. It's permitted to wear makeup if desired and most patients go back to regular activities with minimal restrictions.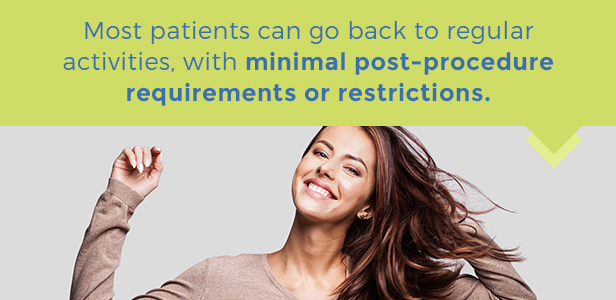 For the next several days, the area treated may feel sore or tender when touched and mild tingling or numbness sensation has been reported but these are temporary side effects.
What Are the Ultherapy® Benefits?
There have been more than 1.5 million Ultherapy® procedures in the world, with a 95 percent improvement rate in patients a year following their treatment, according to a 2016 study published in the Journal of Clinical and Aesthetic Dermatology.
Patients reported:
Appreciable lifting
Tightening of facial and neck tissue
Less sagging
Fewer lines and wrinkles
Smoother skin texture
Overall, patients experienced improved Global Aesthetic Improvement Scale (GAIS) scores and a high degree of satisfaction for up to one year. GAIS is a five-point aesthetic rating improvement scale in appearance, as compared to pretreatment and judged by an investigator.
Ultherapy® Benefits
Collagen is the primary structural protein in our connective tissues and skin. Collagen keeps your skin looking younger. The heat you feel during your Ultherapy® treatment is designed to trigger your body's natural healing process, stimulating the skin to contract or lift and to produce more collagen.
Builds New Collagen
The treatment stimulates the production of new collagen by delivering targeted ultrasound energy to the foundational layer of your skin. Cosmetic surgery would involve cutting the skin and manually lifting it in place. Occasionally, surgeons will use electrocautery or heat to lift the layer above the muscle, similar to Ultherapy® but that still involves cutting or disrupting your skin surface.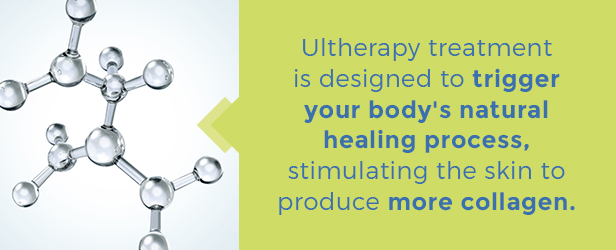 No Needles or Toxins
Ultherapy® is non-surgical and jumpstarts the regenerative process by triggering a natural response beneath your skin and producing new collagen.
No Surgery
General anesthesia is not needed with Ultherapy®. In most cosmetic surgeries, general anesthesia would raise more risk and increase the cost of the procedure. The downtime of surgical treatments can also be extensive, requiring time off work and public avoidance for several days or even weeks – and many patients report achieving their goals without the higher risk or cost of cosmetic surgery options.
More Natural Results
Since Ultherapy® makes use of the body's natural response to build collagen, most patients find that results are much more natural than procedures that use more artificial or invasive measures.
Tolerable
Each patient's comfort threshold varies. For most of our patients, the procedure is extremely tolerable. Pre-treating with ibuprofen or acetaminophen can help reduce discomfort. If people do experience any pain, it's usually during the time we are delivering ultrasound energy. This is a temporary sensation, however, and a good sign that the collagen-building process has started!
FDA-Approved
Ultherapy® is not just a non-invasive treatment — it's the only one cleared by the FDA to lift the skin under your chin, on your neck and on your brow line. The FDA has also recently cleared Ultherapy® to enhance the appearance of wrinkles and lines on the décolletage or chest area.
Less Treatments Needed
Many patients need only one treatment to see optimal results, unlike many other skin tightening devices which require a series of 3-5 treatments to get best results. However, there may be times when the clinician suggests additional treatments, particularly if excellent results are being noticed and you want more lifting or asymmetry is being corrected.
Customized Treatment
Ultherapy® is a customized treatment to tailor to your individual needs. This includes adjusting the energy depth and treatment length or adding more pulses in one area such as the brow to create more symmetry, providing you with a customized treatment plan. Furthermore, Ultherapy® works well in combination with other cosmetic treatments including injectables such as Restylane® or BOTOX®, laser resurfacing or BroadBand Light therapy. Most treatments can even be done the same day as your Ulthera!
Longer Lasting Results
Although optimal results following treatment can take 3-6 months, many people continue to see gradual improvement over time. Some of our patients have seen some lifting effects immediately after their procedure. However, we've found that the majority of people realize most results a few months after treatment. The studies conducted looking at the long-term results of Ulthera has been shown to last between 2-5 years. Obviously, the better condition of the skin and overall health of the patient allows results to last longer.
More Natural-Looking Appearance
Ultherapy® provides patients with a natural-looking enhancement. It stimulates collagen which gradually tightens your skin, leading to a more natural look. This allows you to benefit from anti-aging results without the unnatural, strange or stiff look sometimes associated with surgery.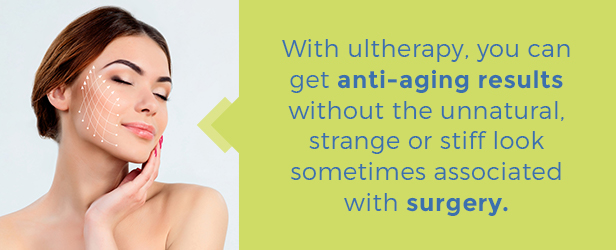 FAQs About Ultherapy®
We've outlined some of the most common Ultherapy® questions that we hear from patients below. If you have any additional questions, feel free to contact us!
1. Can You Replace a Facelift With Ultherapy®?
Although Ultherapy® doesn't replace a facelift, it can still lift and tighten treated areas without surgery and with minimal downtime. It's an ideal option for people who don't want surgery, or those looking to enhance effects of a cosmetic procedure they've already had.
2. What's the Difference Between Ultherapy® and Laser Treatments?
The Ultherapy® procedure uses ultrasound energy with unique properties that allow it to bypass the skin surface to treat depths other non-invasive devices can't match. It stimulates the contraction and production of collagen in the foundation of your skin, providing most patients with a noticeable lift of tissue gradually over a few months.
Lasers, on the other hand, use light energy which can't penetrate into the deeper layers of your skin at an optimal temperature. Therefore, laser procedures generally only treat superficial skin. Lasers are also not cleared by the FDA to lift skin. However, they work together well, since they both treat different skin issues. In fact, Ultherapy® works fantastic in combination with almost all cosmetic treatments.
3. What Makes Someone a Good Candidate for Ultherapy® Treatment?
Ultherapy® is ideal for both men and women who are looking for a non-surgical alternative to lift the skin. Levels of skin laxity can have an impact on your results, so an initial consultation is important to determine if your expectations or goals would be attainable. It's rare that someone wouldn't be a good candidate for Ultherapy®, however, it's important to attain and review each person's medical history prior to treatment.
4. How Long Does a Typical Ultherapy® Treatment Last?
The treatment length depends on what area you're having treated and your personal goals. Areas on the neck and face typically take anywhere from 60 to 90 minutes. Chest treatments are shorter at around 30 minutes.

5. How Much Does Ultherapy® Cost?
Ultherapy® cost varies, depending on the extent of your procedure, as well as the individual practices of the clinician and your geographic location. It's best to talk with one of our providers to get an accurate quote, as the treatment is highly personalized for each person. It's certainly much less than any plastic surgery procedure. Costs range anywhere from $800-$2800, depending on the size of the treatment area or the location of the procedure. Since results are long lasting and most patients only need one treatment, it quickly becomes a very economical solution. We also offer financing options if needed.
6. What Are the Side Effects of Ultherapy®?
Most patients find that Ultherapy® has minimal side effects and downtime, although its common to expect some redness and mild swelling immediately after. This side effect is temporary and typically goes away in a few hours. Less frequently, you might have soreness to the touch, prolonged swelling and in some cases, a small bruise, but these generally resolve 1-2 weeks after the treatment.
7. What Makes Ultherapy® Unique?
Ultherapy® is presently the only non-invasive FDA-approved treatment for skin lifting not just tightening. It's also the only treatment using ultrasound imaging to target specific layers of skin.
8. What Is the Collagen Creation Process With Ultherapy®?
Collagen is your body's natural protein that keeps your skin toned and firmed, providing its youthfulness. As you get older, collagen loses strength. It's also more susceptible to the effects of gravity, which creates loose and sagging skin over time.
Ultherapy® targets ultrasound energy beneath the deep layers of your skin at the optimal temperature to regenerate collagen. The procedure jumpstarts neocollagenesis, a natural process that produces new, fresh collagen.
The treatment uses the collagen-building process of your own body for noticeable, natural results.
9. Does Ultherapy® Hurt?
Each patient's comfort threshold varies. For most patients, the procedure is extremely tolerable. Ibuprofen or acetaminophen are given prior to the treatment which can help lower discomfort. We also have lots of distraction techniques and people are encouraged to bring their own music/headphones or books on audio if desired. If discomfort is felt, it's typically during the time of the "pulse" which is delivering ultrasound energy. This is a temporary sensation, however, and a good sign that the collagen-building process has started!
10. How Often Can You Do Ultherapy®?
After several months have passed following your initial treatment, we can re-evaluate your progress. In 3-6 months, a majority of the results should be seen. At the follow-up visit, we can determine if any additional treatments might desired or if any sort of maintenance schedule should be established. We always strive to achieve your goals and work towards the most effective and longest-lasting plan.
11. Can You Treat Areas Other Than the Face?
Presently, Ultherapy® is approved to treat the skin on the neck, under the chin, above the brows, crow's feet, under eyes, cheeks, around the mouth and décolletage or chest area. We're hopeful that future research and development will add more areas such as around the knees and elbows.
Why Choose Rejuvenation Clinic of Sauk Prairie for Your Ultherapy® Procedure?
Rejuvenation Clinic of Sauk Prairie, located in Prairie du Sac, Wisconsin, provides you with a private and inviting setting where you can feel comfortable as well as educated on the best treatment options for your specific needs. This is also a treatment that is not reproducible in every clinic. You get much better results when you go to someone who has a lot of experience rather than a technician in a large medi-spa where turnover is frequent. So, the lowest price Ulthera is not necessarily the same treatment – in other words, you get what you pay for. We're excited to offer this treatment option and are looking forward to working with you to ensure it's meeting your goals and needs. Lift and Tighten
Contact us for a free consultation to learn more about Ultherapy and to determine if it is the right treatment for you!
Contact Us