We all want beautiful skin, but getting a bright and youthful complexion can seem elusive. When home face masks, scrubs and cleansers just won't cut it, the skincare professionals at Rejuvenation Clinic of Sauk Prairie offer consultations, treatments and technology that can help you get your glow back. The medical lasers, lights and Ultrasound therapy, to name a few skin treatments at Rejuvenation Clinic of Sauk Prairie, are safe and Food and Drug Administration (FDA)-approved. These treatments involve clinically proven devices that can help improve a variety of skin problems, such as sun damage, signs of aging and even scarring.
Let our highly-trained team customize a plan that will help you get the results you're looking for.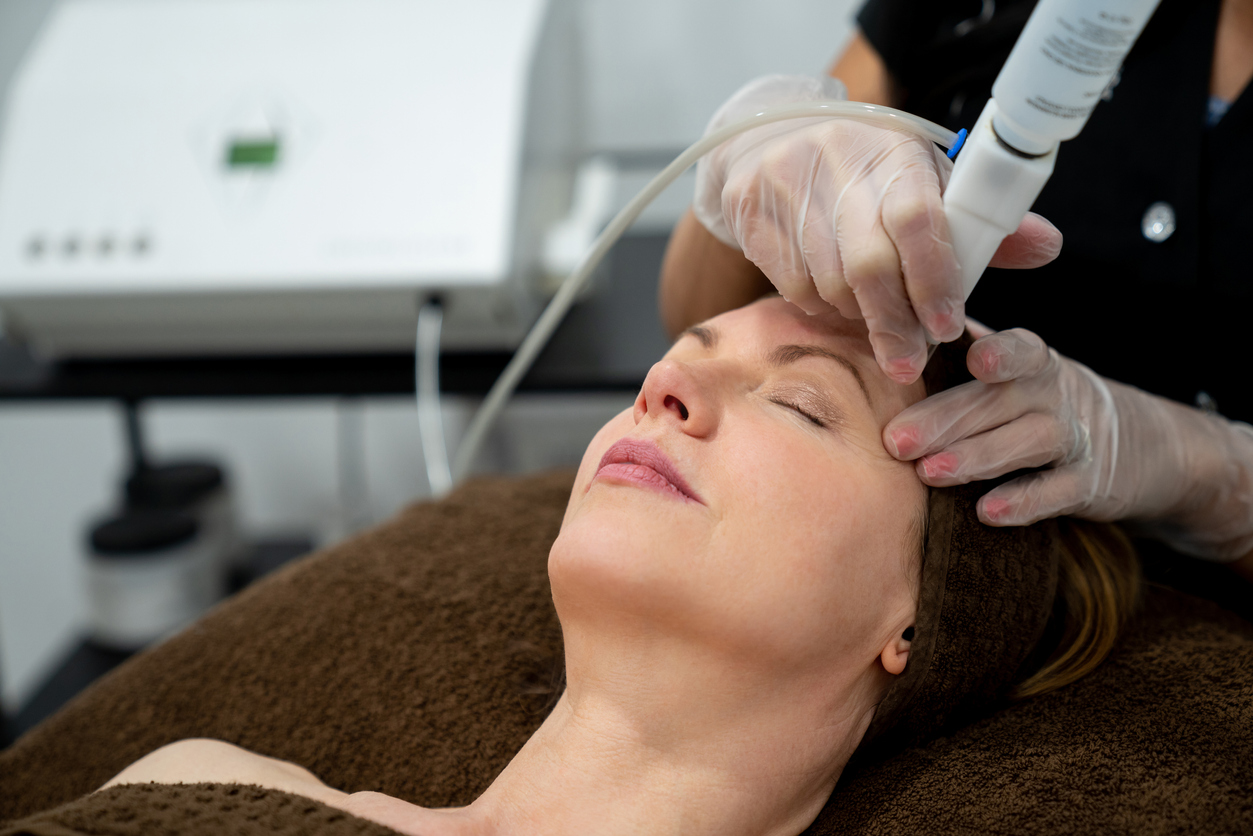 Types of Laser and Light Treatments 
Our laser and light treatments harness the power of light and heat to help improve your skin's tone, texture and coloration. Here are the laser and light treatments and other devices available at Rejuvenation Clinic of Sauk Prairie.
HydraFacial MD® is a skin resurfacing treatment that cleanses, exfoliates and hydrates your skin. It's unique spiral design and powerful suction handpiece removes dead skin cells, excess dirt, oils and toxins while addressing multiple skin issues at once. This noninvasive treatment doesn't cause downtime and is highly effective yet relaxing. The result is a face that feels fresh and clean.
Ultherapy®, also called Ulthera, uses advanced ultrasound technology to help produce an immediate lifting and long-lasting tightening effect of the skin. This non-invasive procedure delivers ultrasound heat energy to the deep, dermal layers of the skin, helping to stimulate new collagen production and strengthen existing collagen. Ultherapy® can lift and tighten skin along the jawline, chin and neck. It's also approved and used frequently to rejuvenate the mid-face, effectively lift the eyebrows and help the crepey skin around the eyes and on the chest.
Broadband Light Therapy (BBL) is an advanced, state-of-the-art technology similar but superior to the first generation Intense-Pulsed Light (IPL). BBL has revolutionized the treatment of various skin-related conditions. Using light energy, Broadband Light Therapy's main function is treating common skin problems such as dark pigmentation, age/sun spots, redness or Rosacea, acne, and even unwanted hair growth. A surprising secondary effect is overall skin rejuvenation. People who have regular treatments of BBL are thrilled to notice brighter, tighter and more youthful skin, often even months after treatment.
Some skin imperfections are only skin deep. If you struggle with mild facial concerns, a MicroLaser Peel can be a quick and efficient technique. The laser beam can precisely vaporize a very thin layer of skin over the treatment area, removing old and dead tissue. This treatment option can help with mild wrinkles, scars, skin tags, freckles, sun spots and skin discoloration.
As we age, our skin becomes loose and starts to sag. SkinTyte™ is an innovative treatment that utilizes infrared energy to deeply heat the dermal collagen in your face, neck, chest or any area of the body. By initiating your body's natural healing process, skin can look tighter, firmer and more youthful.
If you have a problematic skin condition such as acne, scarring, deep wrinkles or stubborn pigmentation,  ProFractional™ therapy is a great choice. Using specific laser frequencies, ProFractional™ can act like a deep-resurfacing treatment yet only treat a fraction of the surface area of the skin. This technology allows for better results for stubborn skin conditions with much less downtime than full resurfacing. By inducing a controlled injury to a fraction of the skin, the wound healing cascade and response creates new collagen. This advanced laser can be used as a "spot" or focused treatment in combination with other laser/light therapies or by itself for overall rejuvenation.
Laser Resurfacing, also called DeepLaser Peel, is a powerful and result-enhancing laser treatment. Sciton's Contour Tunable Resurfacing Laser (TRL™), was developed to mimic the older technology of carbon dioxide lasers but with less risk and downtime. This treatment is used to target more stubborn skin conditions such as deep wrinkles, scars and irregular skin texture. It can also be used as a "spot" laser to resurface annoying benign blemishes such as seborrheic keratoses and skin tags.
Thin, red blood vessels on the face, often called spider veins, can make you feel embarrassed and self-conscious. The most common areas affected are the nose, cheeks and chin and are often associated with a skin condition called Rosacea. Creams and prescriptions may help the bumps associated with Rosacea but will never eliminate the actual spider veins.  Laser vein removal using Sciton's Clear Scan uses very focused laser light to essentially cauterize the blood vessels right below the skin. Once heated to a certain temperature, the vein breaks down and collapses. As blood flow is directed to new vessels, spider veins fade away.
Whether you have areas of embarrassing hair growth, struggle with bumps associated with ingrown hairs or you're tired of the hassle of shaving, laser hair removal can be a highly effective solution. During your session, a small beam of high-heat laser light damages the hair follicle, helping to prevent or delay further hair growth. While occasional touch-ups may be necessary to address stubborn patches or dormant follicles, most people find that they have very little upkeep to having hair-free skin.
Fungal infections can leave your fingers and/or toenails with unsightly yellow, thick and brittle nails. To help stop this condition, turn to our skin care clinic. We specialize in laser light treatment for nail fungus, a 15- to 20-minute technique that can address fungal infections with minimal discomfort and amazing results.
Benign skin growths such as skin tags, keratoses and cherry spots are common in mid-life and can make you feel insecure about your overall appearance. Instead of freezing the lesion with liquid nitrogen or using a blade to shave it, laser technology for skin blemishes can result in complete removal with minimal discomfort and scarring compared to other techniques.
Benefits of Laser and Light Therapy 
All of these skin care options can provide incredible outcomes, and it's important to entrust your care to qualified health professionals. With years of experience, state-of-the-art technology and a solid core understanding of skin anatomy and physiology, we will provide you with the best experience and results.
As we work with you to develop your treatment plan, we assess your skin for cosmetic and non-cosmetic concerns, utilizing proper referrals if you need different treatments than we can provide. Cosmetic treatments using laser and light therapy for the skin can offer a variety of incredible benefits such as:
Addressing specific issues without damaging the rest of your skin
Treating a variety of skin conditions
Repairing skin damaged by sun, environmental toxins, stress and aging
Addressing pigmentation issues and reducing redness
Tightening and lifting skin
Improving the skin's texture and integrity
Start
 Your Skin Journey at Rejuvenation Clinic of Sauk Prairie
Our goal is to not only help you achieve the results you're looking for but also improve your skin health and overall wellness.Your journey to beautiful, glowing skin is just one step away.  If you're ready to learn more, fill out our online contact form. Or, give us a call at 608-434-6600 to schedule your free consultation.