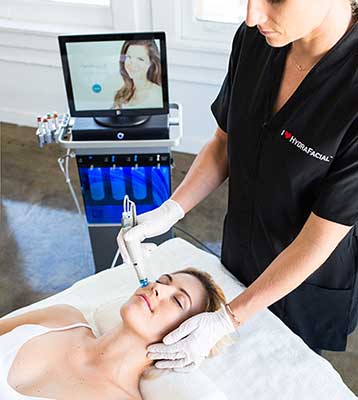 Are you ready to try something beyond a typical facial? Have you always wanted to try a chemical peel or microdermabrasion but were too nervous about the downtime? 
Rejuvenation Clinic of Sauk Prairie is proud to offer HydraFacial MD, a medical facial that cleanses, exfoliates and hydrates your skin. HydraFacial MD uses a modern-type of microdermabrasion combined with a chemical peel that has no downtime. In less than an hour, you can have the best skin of your life!  To schedule a HydraFacial MD Treatment, contact us online here.
What Is HydraFacial MD
®

Treatment?

This advanced facial skincare technology uses a unique spiral design and powerful suction handpiece to provide a non-invasive skin resurfacing treatment. Our HydraFacial MD treatment helps remove toxins, dead skin and excess dirt and oil, leaving your face feeling incredibly fresh and clean. These treatments replace a myriad of traditional spa facials and peels, with more noticeable results.
What Makes Our HydraFacial MD
®

Treatment Superior to Other Facials?

In a standard facial treatment, you're often met with highly scented creams and serums being applied manually, wiped away and reapplied. HydraFacial MD uses "Vortex Technology" to extract and infuse a variety of super-serums that are fragrance-free yet potent. The ingredients such as glycolic acid, salicylic acid and growth factors are only available at higher strengths in our clinic setting. This is not the same HydraFacial you might receive in a spa environment. Also, it's common for a standard facial to address only one or two skin problems, whereas HydraFacial MD addresses multiple skin issues at once.
What Does the HydraFacial MD
®

Procedure Treat?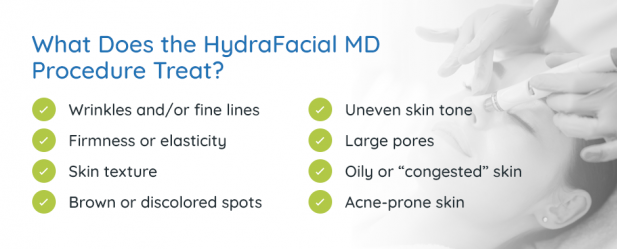 HydraFacial MD can be performed on all skin types at any time of the year, in contrast to some laser and light therapies that are only safely performed outside summer months. Whether your skin is oily, dry, acne-prone, sensitive or normal, HydraFacial MD is safe and effective at treating any skin problems. 
We can create a treatment plan based on your specific needs, addressing problem areas, including:
Wrinkles and/or fine lines

Firmness or elasticity

Skin texture

Brown or discolored spots

Uneven skin tone

Large pores

Oily or "congested" skin

Acne-prone skin
You can also add a "boost" of super-serums or other add-ons to your Signature HydraFacial MD treatment, which are designed to address your specific skin concerns. These unique super-serums help with brightening, tightening, collagen production, large pores, fine lines and wrinkles, hydration, Rosacea, redness, and pigmentation.
What Steps Can You Expect During a HydraFacial MD
®

Procedure Using Vortex Technology?

At Rejuvenation Clinic of Sauk Prairie, we use a minimum of five steps to complete our Signature HydraFacial MD treatment. For problem areas or extra anti-aging benefits, we can add "booster" steps to complete this medical facial treatment tailored just for you. Here's an example of a step-by-step outline to describe and help you understand the process.
Vortex-Cleanse and Exfoliation: This initial step uses a proprietary serum called Beta-HD, which includes ingredients such as salicylic acid, honey and spiraea flower extract. A handpiece with a special tip for exfoliation is utilized while a vacuum-powered stream of Beta-HD serum is applied to the face. This patented 4-in-1 Vortex Technology handpiece gently and painlessly removes the outer layer of skin along with oil, dirt and dead skin cells. This first step preps the skin for the rest of the treatment.
Vortex-Peel:Next, a combination of salicylic and glycolic acid is infused into the skin, to further loosen deeper debris, impurities and dead skin cells that can cause both whiteheads and blackheads. Generally, this chemical peel results in little to no downtime such as redness or peeling unless a higher strength acid is used. This will be determined before starting HydraFacial MD by learning about your skin type, concerns, goals and availability of downtime.
Vortex-Extraction: The third step is essentially a painless "vacuuming" of the skin. We use a hydrating and soothing serum and our Vortex extraction tool to suction out stubborn blackheads, clogged pores and congested skin. Different levels of suction can be adjusted for all types of skin and problems.
Optional step: At this time, many people choose to add a specialty serum or booster to further repair skin issues. Popular boosters such as Britenol helps brighten dull skin, Dermabuilder fills in fine lines and wrinkles and RegenGF provides growth factors that rebuilds damaged skin.
Vortex-Fusion: The next step is a gentle infusion with a variety of soothing ingredients meant for hydration and healing. Antiox+ is our serum of choice which includes hyaluronic acid, arnica, horse chestnut extract and other powerful antioxidants.
LED Light Therapy: The last step utilizes an LED handpiece which is held over the face for several minutes,  creating a warm, relaxing sensation. This light therapy helps the serums and their beneficial ingredients penetrate deeper into the skin.  Other positive effects include reducing inflammation, redness and acne breakouts.

Two types of lights can be used:

Blue light, to kill bacteria that causes acne breakouts.

Red light, to build collagen, create tightening and reduce inflammation.
The Benefits of a HydraFacial MD
®

Treatment

Does HydraFacial MD really do anything for my skin? The fact that the HydraFacial treatment is performed every 15 seconds demonstrates the popularity and appeal of this facial treatment. This can be attributed to the fact that the HydraFacial MD treatment is:
Ideal for all ages, skin tones and skin concerns

Consistently safe and effective

Comfortable and painless

Quick with virtually no downtime

Customizable to your skin's needs

Harmonious with other skin treatments
In less than an hour, with little to no downtime, HydraFacial MD can deliver significant facial rejuvenation. It's common to see immediate skin smoothing, radiance and hydration. Many people choose to go without makeup or other products right after the treatment as to not conceal the glowing, youthful-looking skin. With just one HydraFacial treatment, you'll notice better and longer-lasting results than a simple facial would provide. Although some patients may experience a slight tightening and redness of the skin for a short time after the treatment, the side effects are very minimal.
HydraFacial MD can be done by itself or combined with other aesthetic treatments on the same day. It can be performed as often as once a month but some people prefer quarterly or twice-yearly treatments, depending on the condition of the skin and goals. We recommend developing a customized plan with our skincare specialists to include clinic treatments and at-home care.
HydraFacial MD
®

Versus Other Treatments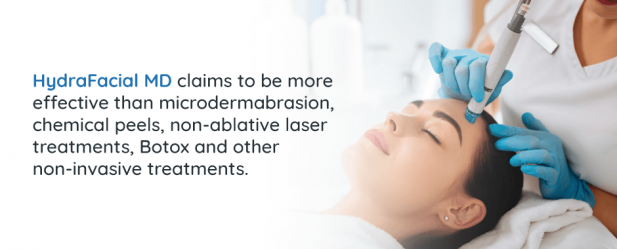 HydraFacial MD
®

FAQS
1. What is the difference between other Hydrafacials and HydraFacial MD
®

?

Unlike other HydraFacial treatments you might see at salons and spas, HydraFacial MD is a medical-grade device that uses higher strengths of glycolic acid as well as growth factors and other proprietary serums only available through a medical clinic.
2. What areas of the body can be treated with HydraFacial MD
®

?

While most any part of body can be treated with HydraFacial MD, the most common areas are the face, neck, back and décolletage.
3. How do I prepare my skin before HydraFacial MD
®

treatment?

Avoid using products with retinol, glycolic acid and salicylic acid 48 hours before treatment.
4. How do I care for my skin after HydraFacial MD
®

treatment?
Avoid sun exposure for 48 hours.

Wear sunscreen with at least SPF 30 before going outside.

Avoid intense workouts for 24 hours.

Avoid topical prescriptions for 24 hours.
5. Can I do other treatments such as Botox or BroadBand Light (BBL) on the same day?
There are certain combinations of treatments that can enhance or work well with each other. For example, we often combine a HydraFacial, then follow with Broadband Light therapy to further improve sun damage, dullness, pigmentation and redness. Another popular combination treatment is a HydraFacial and Botox which results in glowing skin immediately followed by less wrinkles in a week!
6. Why are regular HydraFacials beneficial?
Treatment. Maintenance. Prevention. Getting HydraFacial's on a regular basis is beneficial in treating skin problems, maintaining healthy skin and prevention of future issues. Because of the non-invasive nature and lack of downtime, this remains one of the most popular treatments in aesthetics. Rejuvenate Your Skin Today
Are you ready to have the best skin of your life? At Rejuvenation Clinic of Sauk Prairie, we are dedicated to the health of your skin and excited to offer the HydraFacial MD treatment. We are proud to offer this amazing medical-grade facial treatment. Whether you're seeking hydrafacial treatment for acne or just want a more youthful appearance, contact us today to schedule your free consultation or to make a hydrafacial appointment.
Contact Us