As we age, the appearance of our face and skin begins to change. A variety of environmental and biological factors come into play, causing the skin to lose its recognizable structure. While you can't turn back time, Rejuvenation Clinic of Sauk Prairie can help give you a little pick-me-up that results in a natural-looking, more youthful appearance.
Injectable treatments such as dermal fillers and neuromodulators are Food and Drug Administration (FDA)-approved, safe, natural treatments injected under the surface of the skin to help produce incredible results. If you are struggling with frustrating problems, such as dark circles under your eyes, jowls, skin folds around the nose and mouth, or flat cheeks, these treatments can help.
Types of Injectables Offered at Rejuvenation Clinic of Sauk Prairie
Benefits of Choosing Rejuvenation Clinic of Sauk Prairie for Injectables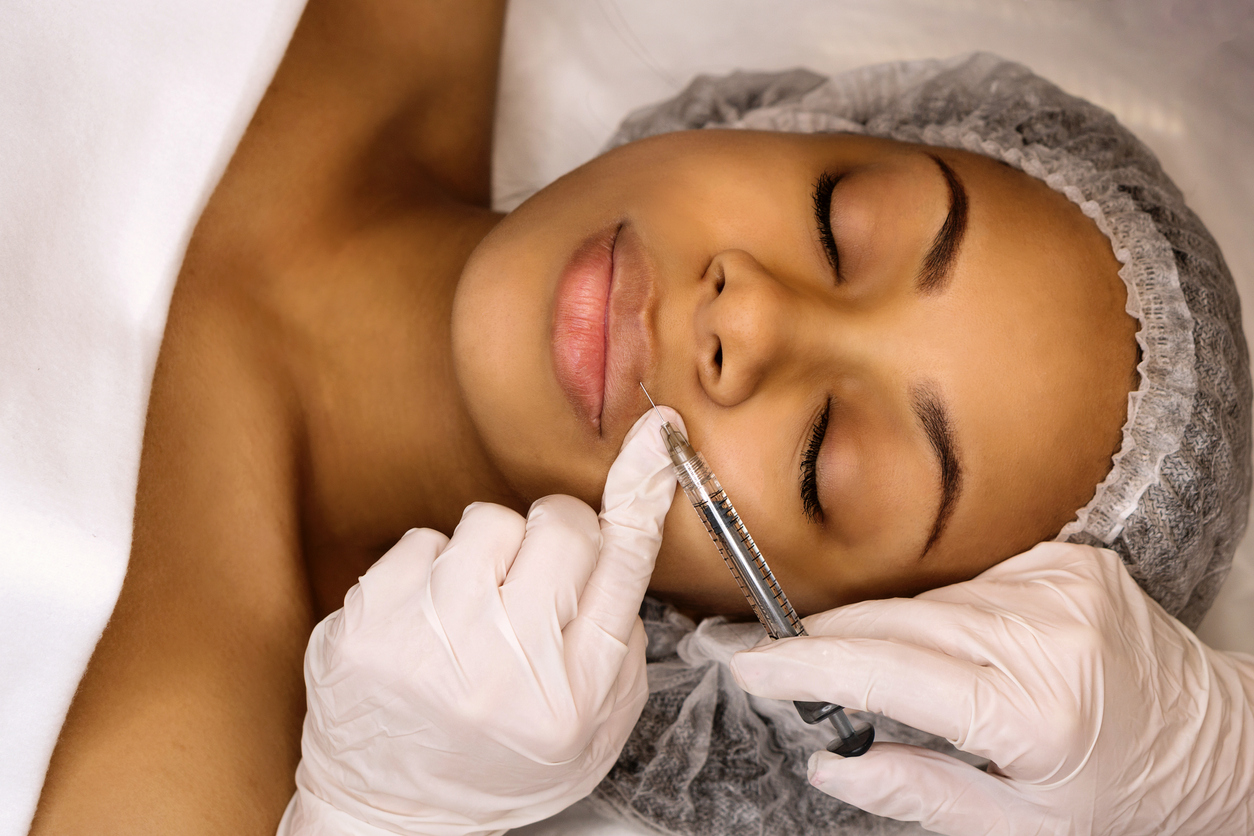 What Are Injectables?
"Injectables" at Rejuvenation Clinic of Sauk Prairie refers to a variety of products that are used in aesthetic skin treatments. Minimally-invasive, non-surgical injections are some of the most popular aesthetic treatments in the world. These treatments are performed in-office — in a safe and comfortable setting — with very little downtime and high satisfaction.
If you're looking for solutions for problems such as wrinkles, frown lines, thin lips or double chin, a number of injectable products that are safe and FDA-approved may be your answer.
Neuromodulators such as Botox or Dysport® are injected into strong muscles responsible for creating unwanted frown or forehead lines. The result is a softer, more relaxed, and youthful expression.
Dermal fillers such as Juvederm® or Restylane® are a group of injectables made of hyaluronic acid (HA) that are used to fill in lines and wrinkles to give the face a smoother, lifted appearance.
Sculptra® injections are used to stimulate collagen production to help aging or deflated skin. Finally, Kybella® is a unique injectable that's used to destroy fat cells under the chin.
Types of Injectables Offered at Rejuvenation Clinic of Sauk Prairie
If you are interested in these anti-aging cosmetic treatments, you're not alone. However, you may be wondering which ones are right for you as there are many injectables on the market today. At Rejuvenation Clinic of Sauk Prairie, all of our selections have excellent safety profiles and can provide amazing results. Our clinicians take as much time as needed to explain the different options and find the best ones for you.
After years of squinting and frowning, it's common to experience lines and wrinkles on the face, even at rest. A protein called onabotulinumtoxinA (the trade name, Botox) was discovered many years ago and used in different types of medical conditions such as muscle spasms, tics, and strabismus (crossed eyes). Over the years, many other clinical uses for Botox have been discovered to treat problems such as migraines, bladder issues, excessive sweating and pain syndromes.
In 2002, Botox® was approved for cosmetic use and in 2006, another company created Dysport® which uses a similar protein. Neuromodulators such as Botox or Dysport® have been the #1 cosmetic procedure performed, worldwide, for many years.
Neuromodulators are used to relax strong muscles responsible for creating unwanted wrinkles such as frown and forehead lines or crows' feet. By injecting Botox or Dysport® into specific facial muscles, many people see a softening or elimination of their lines.
The overall appearance can be improved as people will often look less tired, more lifted and overall, refreshed. It's still important for many people to not look too stiff or frozen and our preference at Rejuvenation Clinic is to allow for some soft movements and expression. The best Botox is the one that doesn't look like you've had Botox!
In our youth, we enjoy a full, heart or oval-shaped face with excellent bone structure and plump, healthy skin. Starting in our 30's, there is a gradual loss of building blocks to our skin including bone, collagen and hyaluronic acid. By the time we turn 50, years of volume loss and skin aging have taken a toll. This often leads to problems such as lines, wrinkles and folds on the skin, sunken cheeks, dark circles under the eyes, jowls, and thin lips.
What are they and How Can They Help Me?
Dermal fillers are natural, gel-like substances that are injected with a fine needle or cannula under the surface of the skin. The injections deliver small amounts of volume which can help to plump up the skin, smooth out lines, wrinkles and folds as well as fill in volume-depleted areas. These minimally-invasive injections can restore many of the natural structures of the youthful face.
All of the dermal fillers used at Rejuvenation Clinic of Sauk Prairie are FDA-approved in the U.S. and have excellent safety profiles. Using the ideal filler for different areas of the face is important along with understanding your goals and look you'd like to achieve. Also, in order to receive the best and most natural result for your face, the skill and experience of the injector is of the utmost importance. Michelle Niesen, Physician Assistant and Co-owner, is the primary injector at Rejuvenation Clinic of Sauk Prairie and has been helping people age gracefully with injectables since 2010. Michelle loves to restore and enhance your natural facial structure so that people won't suspect that you had anything done…they'll just think you have great genes!
Dermal Filler Options at Rejuvenation Clinic of Sauk Prairie
We offer several FDA-approved dermal filler options to our patients. These all have excellent safety profiles and have been used in aesthetic medicine for several years.
JUVÉDERM® continues to be one of the top dermal fillers in the United States and was approved for use in 2006. It consists of a highly purified, man-made hyaluronic acid (HA). HA is actually a naturally-occurring substance produced by the body that delivers nutrients, adds volume, nourishes and hydrates the skin. As we age, the body's ability to produce HA and other "youthful" substances diminish, since aging cells aren't as productive.
Juvederm® is used to smooth fine lines, fill in wrinkles, plump up skin and help retain structure. Treatments are done in the office and are noticeable immediately after the procedure. Most people experience minimal downtime and results can last 1-2 years or more.
JUVÉDERM® offers a variety of dermal filler products, all with their own special characteristics that work best in certain areas and for different concerns. Juvederm® Family of Fillers include: Ultra, Ultra Plus, Voluma, Vollure, and Volbella. We always help you find the best, safest and most natural fit for your face.
Restylane® is another brand that uses synthetic hyaluronic acid as its main ingredient and has been very popular worldwide. Factors such as sun damage, aging and environmental stresses lead to the slowing production of HA as well as collagen and other growth factors. Restylane®, with its smooth gel-like consistency, is used to restore volume, fill in lines and wrinkles and help sunken areas of the face.
Restylane® has a long, successful aesthetic history and a very good safety profile. It can last 1-2 years or more and like most dermal fillers, people find that all they need are touch-ups every so often rather than full corrective treatments.
Sculptra® Aesthetic is a different type of injectable often placed in the dermal filler category, however, is quite unique in its action. Sculptra® was approved in the U.S. for cosmetic use in 2009 and is made of synthetic, bio-compatible Poly-L Lactic Acid particles (PLLA) which is suspended in sterile water.  The particles are similar material as absorbable stitches and act as a collagen-stimulator when placed under the skin. After several months, the PLLA particles gradually dissolve and is replaced with healthy collagen.
People with volume loss and thinning skin related to aging, weight loss or illness can benefit from Sculptra® treatments as well as younger people who desire maintenance and prevention of age-related volume loss. Typical areas that are treated include cheeks, temples, brows and jawline.
Sculptra® treatments are performed in a series with an average of three sessions about 4-6 weeks apart. The results of Sculptra® is not immediate but rather a slow, natural improvement over the course of several months. Results can last an average of 2-3 years, although many people feel that they have overall skin improvements from Sculptra® for several years.
Areas of submental fat (often called double chin) can be frustrating and causes include aging, weight gain or genetics. It's especially bothersome when, no matter what you do, you can't get rid of it on your own. KYBELLA® is a specially-designed injectable that destroys fat cells. When injected into the double chin, fat will begin to break down and slowly eliminated from the body over the next few weeks.
Kybella® treatments are often delivered in a series of 2-3 sessions about one month apart. Initial side effects include bruising and swelling, however, there are no signs of the treatment being performed once these are gone. This is unlike surgery or liposuction which can leave noticeable scarring. Results are considered permanent since Kybella® accomplishes "fat cell death". These cells are not regenerated except under special circumstances.
Benefits of Choosing Rejuvenation Clinic of Sauk Prairie for Injectables
Injectable treatments are becoming more widely available due to their popularity and preference over surgical procedures. We are proud to offer many high-quality injectable products to be able to treat a number of aesthetic concerns. While finding the right product is important, we believe that choosing your injector and clinic is the number one priority. The skill, knowledge and experience of the medical provider is crucial in giving you the results you want. Also, providing a safe and comfortable atmosphere for care is just as essential. Here are a few more benefits you can enjoy when you choose Rejuvenation Clinic of Sauk Prairie:
Highly skilled and friendly team
Respect for privacy and confidentiality
A focus on your best interests
A comfortable, intimate setting Feel Your Best at Rejuvenation Clinic
If you would like to learn more about our injectables including neuromodulators, dermal fillers and Kybella, we invite you to fill out our online contact form to schedule your complimentary consultation. Please feel free to call with any questions you may have at 608-434-6600.
Request a Free Consultation