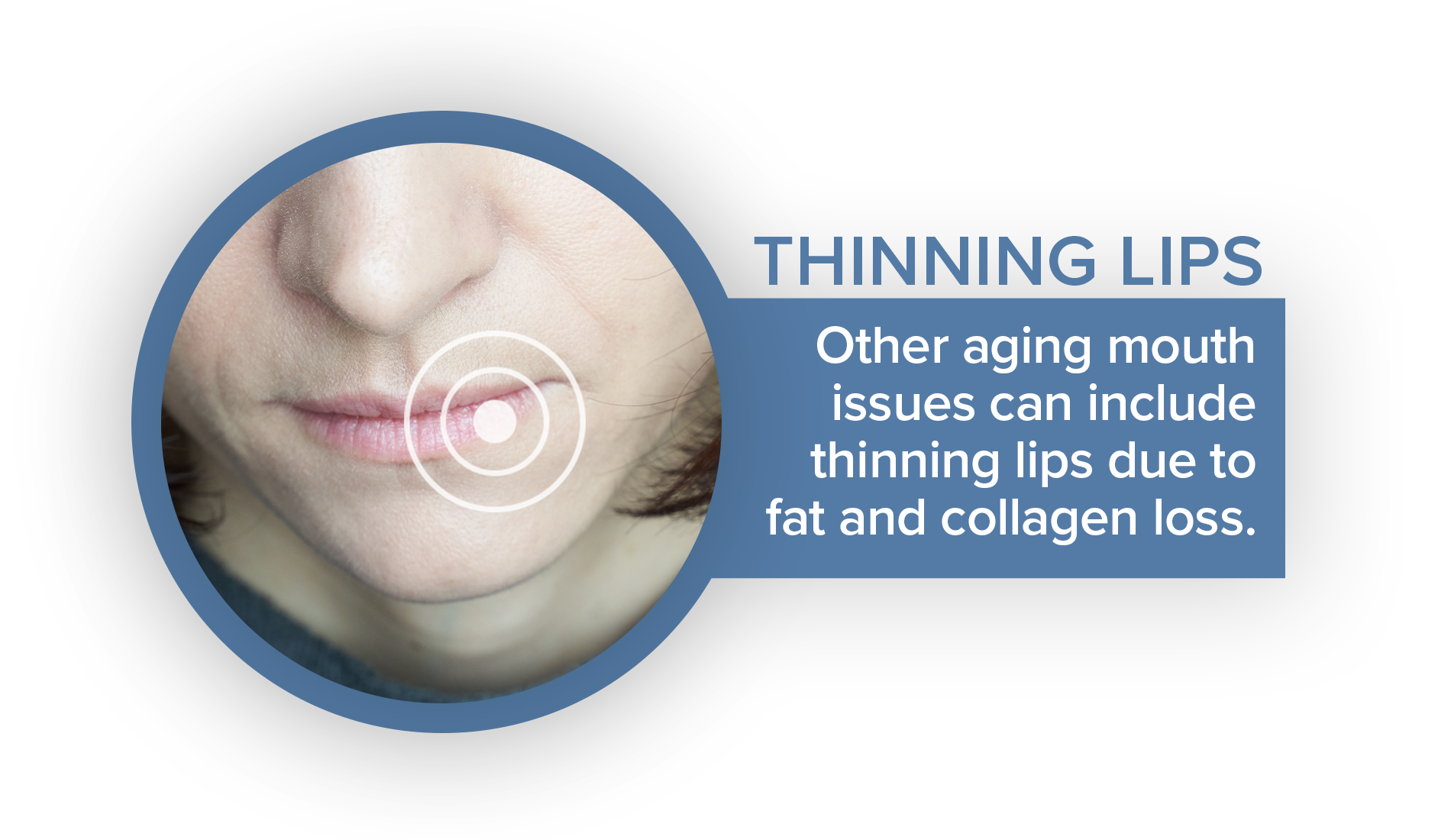 The Aging Mouth
Are you tired of having smokers' lines even though you don't smoke? Do people ask why you are always frowning? Now is the time to explore this frustrating sign of aging as newer non-surgical
treatments can help restore your youthful appearance in a safer, more natural way.
Common Lip/Mouth Complaints and Causes
Lip lines (often called smokers' lines) are stubborn signs of aging created from years of lip pursing by actions such as talking, drinking, habit, and smoking. Many women find that their lipstick "bleeds" into these maddening lines. Lip lines are also created from fat and volume loss as well as environmental exposure to UV light.
Other aging mouth issues can include thinning lips due to fat and collagen loss. Wrinkles or folds from the nose to the mouth are common and often called "the parentheses" whereas lines under the corners of the mouth many refer to as "marionette lines". These problems arise from sagging and volume loss above the mouth that causes heavy tissue to fall south. For example, young people often have full, lifted cheeks or "apples" and as we age, the apples deflate causing the overlying skin to sag down towards the mouth area.
Dermal Fillers and Other Remedies for the Aging Mouth
We've all heard horror stories of people who used silicone or other surgical implants to restore their youthful lips and ended up looking extremely unnatural, maybe even like a duck! Risks of surgical treatments for the lips and mouth seem to outweigh the desire for a younger appearance. Thousands of creams, serums and topical lip plumpers promise to restore volume or smooth wrinkles with little to no results.
Today, non-surgical treatments have been perfected that can give you back your youthful mouth with very little risk or downtime.  A treatment such as Botox® or Dysport® can relax pursing muscles, which helps smooth out wrinkles around the mouth. It may also be used in a way to help the downturned mouth or puckered chin.
Dermal fillers such as Restylane® or Juvederm® can be injected into the body of the upper and lower lip to create fullness or placed above and below the lips to fill in smokers' lines. Restylane Lyft or Juvederm® Voluma are perfect fillers to restore the apples in the cheeks which lifts the parentheses and marionette lines.
Treatments such as laser resurfacing, microlaser peels, broadband light therapy and medical grade chemical peels can also help to restore healthy skin around the mouth.
Don't Be Afraid to Get Your Smile Back
All of the non-surgical treatments for an aging mouth performed at Rejuvenation Clinic are FDA-approved in the U.S. and have excellent safety profiles. Understanding your goals and determining the right treatment for you is very important to us. We take as much time as needed to explain the different options and what would be best for you. Contact Us Today!
If you are interested in learning more about treatments for the aging mouth, please schedule a complimentary consultation at Rejuvenation Clinic!
Contact Us