February 5, 2018
What gal doesn't want long, luscious eyelashes? Long, dark and thick lashes are a youthful trait that's often envied by aging women. Not only do long eyelashes look young, they open up the eyes and make us look less tired. But how do we get them back?
Years ago, it was observed that people (often middle age or older) who were using Lumigen eyedrops for the treatment of glaucoma were developing stellar eyelashes. Using the same active ingredient in Lumigen (bimatoprost) and approved by the FDA in 2001, Latisse became the first and only prescription medication to increase length, thickness and darkness in people with sparse eyelashes.
Latisse is believed to extend the active growth phase of the lashes. They continue to lengthen, don't fall out or shed in 4 weeks, and new ones continue to grow or fill in. Latisse can also darken and thicken the lashes providing a beautiful 'natural' frame to the eyes. Mascara can be applied for an even more dramatic effect but it's not uncommon for women to feel like they can leave the house without it.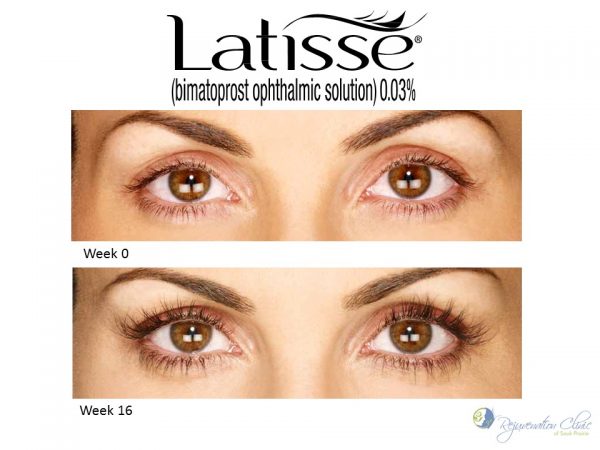 A common fear is the rare side effect of darkening the color of green or blue-eyed people. This is a rare occurrence and to my knowledge has only happened to people that were using the bimatoprost for glaucoma…essentially dropping the product directly into the eye. In contrast, Latisse is applied carefully to the upper eyelid similar to applying upper lid eyeliner.
More common side effects include irritation or redness on the skin of the eyelid. I have seen some darkening of the upper eyelid but many people aren't bothered by this due to its light color. Truthfully, most women are willing to tolerate a little darkening of the eyelid in trade of long, stunning eyelashes. Also, makeup such as eyeshadow hides this perfectly.
Very rarely, people may have an allergic reaction to the components of Latisse. This results in itching, irritation and redness and resolves once stopping the product. The cost is quite reasonable considering the amount of money spent on over-the-counter "knockoff' products or extensions. Typically, the 5ml bottle can last several months.
Most people start to see improvement in 4-6 weeks, however, full results can take up to 16 weeks. The excitement of people coming back to the clinic with longer, darker, thicker eyelashes is my favorite part of Latisse. Are you tired of looking tired? Try Latisse and you'll soon look rested and more like your younger self.
Are you in the Madison, WI area? Contact us for a free consultation to discuss if Latisse is right for you!